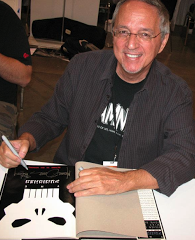 Mike Zeck
When discussing comics heavy hitter, Mike Zeck, you'd have to argue which is his most influential work, or which is most deeply embossed on our pop culture.

His series "Kraven's Last Hunt," took Spider-man to a whole new level and has been voted by readers as the "Greatest Spider-Man story ever told." His subsequent work on the Punisher with "Cricle of Blood," cemented him as one of the THE artists for the character, while the series "Secret Wars," set comic book readership on their ears, and heralded Zeck's creation of the black and white Spider-Man costume, still around as the attire of the super-villain, Venom. His work on Captain American also stands out as some of the most influential in the industry, and iconic images of this and other characters such as Superman and Batman, are etched in comic history.
In fact, Zeck images are featured on Marvel merchandising ad nauseam year after year, evidence of his enduring popularity. It's hard not to notice all those "Secret Wars" t-shirts!
Recent books on Mike include "Raw Fury: The Art of Mike Zeck," while Zeck's series with writer Steven Grant (creator of the hit movie "Two Guns"), "Damned," was released in a recent volume by IDW Publishing, which has also just released a deluxe volume of Mike's classic Marvel covers.
Programming Notes: Mike prefers not to do panels. But is at his table for fans all hours of any show he attends.
(Note that Mike will be doing very limited appearances, and certain conditions apply. Please contact me for details. )